If your company needs to telework for a while, these five tools for working from home will help you carry out your work normally.
Nowadays, many companies have been forced to work from home due to the situation the world is experiencing due to the COVID-19 coronavirus pandemic. Fortunately, we are at a time when there is a wide variety of telecommunications tools to work remotely without problems. Let's see tools for working from home.
Tools for working from home
Both large and small companies have tools at their disposal to work from home thanks to the internet. Here are some services that will make life easier for both employees and managers.
VIRTUAL SWITCHBOARD
A virtual switchboard is a system that allows you to make telephone calls over the Internet using VoIP (Voice over Internet Protocol) technology, this is how easy a virtual switchboard works. It is a software where you can manage your calls from a computer, landline or mobile phone from anywhere. All you need is an internet connection, so you can connect all your offices through a PBX, even if they are located in different countries.
One of the functionalities that we can highlight from the Virtual Switchboard is the possibility of making a conference call, so you can talk to several people at the same time, no matter where they are.
WORK SCHEDULE SOFTWARE
Remember that even working from home, employees must record their workday. With the Work Schedule Software workers will be able to record their schedule by phone, so it doesn't matter where they are located.
This software allows companies to keep a digital record of their workers' schedules. Also, this new service helps you to comply correctly with the Law that requires companies to make a record of their employees' working hours.
Work Time Reports will display the list of employees, with their extension, ID or PIN, name, date and time of entry or exit. A very useful function is the possibility of downloading this list in Excel format.
APPS FOR CONFERENCE CALLS
As we have indicated before, with a virtual switchboard you can make conference calls to talk with colleagues wherever they are.
On the other hand, if you are a 3CX client you will be able to use their Video conferencing technology. It is very easy to use and there is no need to download and install any additional software or plugins on your computer. In case you want to use it from your smartphone, you will need to download the 3CX WebMeeting application. With the 3CX Video Conference option you can create, schedule, manage and join ad-hoc conference calls.
TRELLO
Trello will help you organize and plan your projects. This remote working tool uses notes as a visual aid to organize specific projects and tasks that other colleagues work on. The ease of use has made it one of the preferred tools among entrepreneurs.
It is practically based on the creation of boards. It is like creating a task calendar, they can be assigned to several people and classified by colors to know if the task is in progress, without starting or finished.
SLACK
It is an instant messaging tool to avoid the use of email and not saturate emails. You can send messages to everyone and start conversations both privately and with several people.
Furthermore, if your organization works with tools like Google Drive, you can add files directly to the platform, edit notes and documents in Google Docs. This application offers a paid version, but the free version is very complete.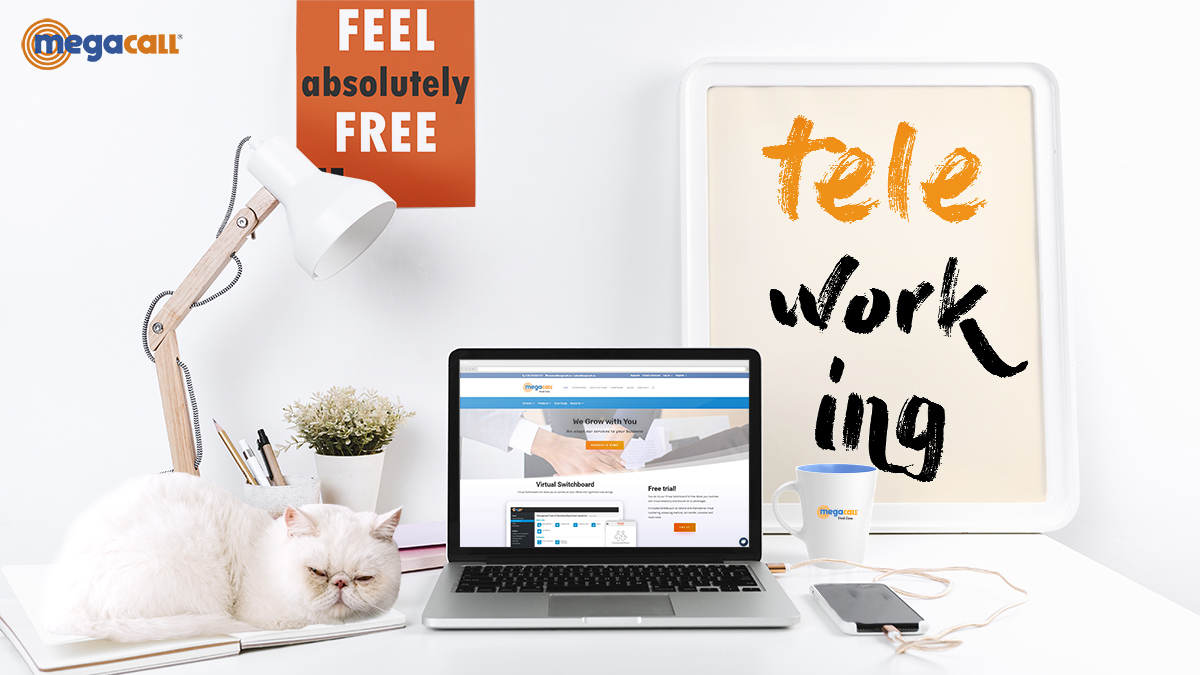 Recommendations and tips to work from home
If you are new to the world of teleworking, don't worry! We have compiled a series of tips so that your routine at home is productive and you can organize yourself in the best possible way.
Don't work in pajamas
As tempting as the idea is, it's totally counterproductive. There is nothing better than getting up, taking a shower, putting on clean clothes, having breakfast and starting to work. Following the same morning behavior as when you go to the office helps you get going and start the day in a good mood.
Enable a space to work
If you have room to work in it, take advantage of it. If you need to establish your work area in the dining room or kitchen table, try to orient it to have good light, space for things you need to have on hand and have maximum comfort. Pick it all up when your workday is over.
Set a schedule and talk to others
Check the hours you are going to work, try as much as possible to be the same time you always have. Organize the tasks you plan to do that day before you start. If you can, adapt to the times when you are most productive: each person knows his own rhythm. If your company has established the same schedule for everyone, try to make the most of all the team being connected at the same time. Use computer tools or the phone to talk to your coworkers. The virtual company is important. And when you're done, shut down the computer and disconnect.
Focus and avoid distractions
Try not to check the press and social media while you work. Set yourself 50-minute productivity periods, for example, where you focus only on work. Avoid distractions and you will perform much better. Try to think you're in the office – the washing machine or other household chores can wait for you to finish working.
Get up and stretch
Force yourself to take short breaks every hour and force yourself to get up and stretch your legs, even if it's just to go for a glass of water. Your body will thank you.
Take care and eat well
Even if you can't leave home, exercise at some point during the day. If you don't know how, find a video of what you like the most (fitness, bodybuilding, yoga, pilates …) and follow the advice of the hundreds of personal trainers who offer online help. Watch what you eat: having the fridge nearby is one of the greatest dangers when working from home. Plan a balanced weekly menu and healthy snacks for mid-morning and mid-afternoon breaks. Don't forget to stay hydrated: if you usually have a bottle of water in the office, do it at home and drink regularly.
Do you have any more tips for teleworking?
Coments