Did you know that you can verify your WhatsApp Business account with a virtual number? If you don't want to use your personal number for your business or your job you can have a virtual number with the purpose of using it for business and it will also work with WhatsApp Business.
It is a good way to keep your personal contacts separate from your professional contacts.
Let's see how to use WhatsApp Business with virtual numbers.
How to use a virtual number with WhatsApp Business
Offer excellent customer service through WhatsApp Business
Differences between WhatsApp and WhatsApp Business
Which virtual number should I choose?
How to use a virtual number with WhatsApp Business
As we have already discussed on other occasions, a virtual number offers you the possibility of having a phone number from any country or location.
Its great advantage is to be able to show a phone number that is familiar to your customers around the world. In addition, you can offer a stronger presence in that location.
Having a virtual number for your business allows you to offer close and reliable customer support to the public in that country.
Activate WhatsApp Business
To use the WhatsApp application we need to have a virtual phone number to register associated with our personal number or a switchboard. You can have the basic WhatsApp and Business on the same mobile since you can have two accounts open on the same device.
But you will not be able to have it open on several devices at the same time.
In case you want to activate WhatsApp Business you can identify it with a virtual number, either mobile or landline. WhatsApp simply needs to make a call to verify that the number is real and will give you a code that you must insert in the app.
This process is very simple with a virtual number. We will forward calls from your virtual number to your phone number to get the code. Once this is done we remove the call forwarding or leave it depending on your needs.
To summarize, the process would look like this:
Have a mobile or landline virtual phone number.
Download the WhatsApp Business application on your cell phone.
Include the virtual number with which we want to link that account.
We receive a phone call that will give us a code.
Enter the 6-digit code.
We remove the call forwarding to your virtual number or leave it according to your interests.
Now you can create your company profile within the application.
Once this is done it will work just like traditional WhatsApp.
Keep in mind that the Megacall support team will help you with the configuration at all times.
And this is how we could start using WhatsApp Business with our virtual company number.
Offer excellent customer service through WhatsApp Business
Using WhatsApp Business will help you offer excellent customer service since it is a close, direct and well-known channel for everyone. Most of the population has the WhatsApp app on their phone so it will be an easy way to connect with them.
Basically, you are giving your audience the possibility to connect with you in a familiar and safe way when they see that besides using WhatsApp they connect with a phone number from their home country.
Usually, every company has an official landline, so being able to perform this process with a virtual landline number is very convenient to offer your users a way of communication that they are used to.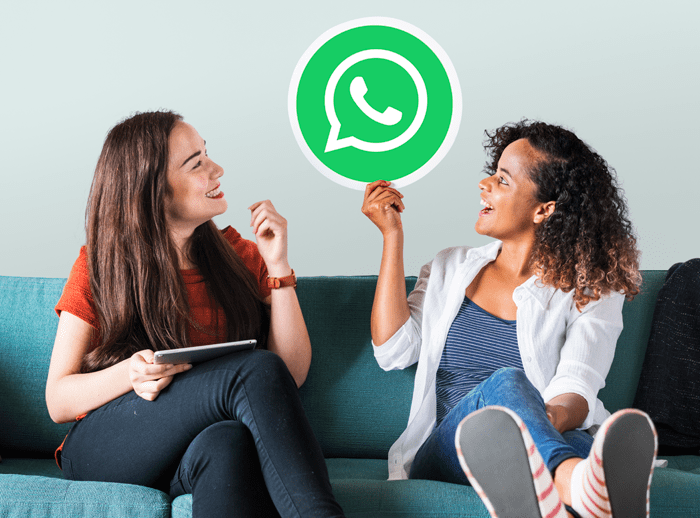 Advantages of using WhatsApp Business:
It is a real-time communication channel. It offers the immediacy of response and agility, something that digital users love.
You can add quick answers to frequently asked questions.
Messages can be encrypted both upstream and downstream and include all types of files. This prevents third parties from accessing the content of chats.
You can do much more than just chat, you can make phone and video calls, send photos, PDFs with product information, links, etc.
You can have separate messages from your personal and professional contacts. In this way, your mobile number will remain for personal use and professional contacts can be associated with WhatsApp Business.
How to include WhatsApp Business on your website?
You can include the WhatsApp button on your website for free using plugins and extensions that exist for installation. We recommend that you consult with a web developer to perform this process.
On the other hand, social networks such as Facebook also allow you to include WhatsApp contact in company profiles. So any user who visits your Facebook page will be able to talk to you via WhatsApp.
In addition, in the WhatsApp Help center faq.whatsapp.com/general/chats/how-to-use-click-to-chat/ you will find how to create a direct link that you can include in other social networks or websites for a user to click and open the WhatsApp app in order to start a conversation.
Differences between WhatsApp and WhatsApp Business
If you are wondering why use the Business version when you already have the traditional WhatsApp you should know that there are clear differences in terms of personal and business use.
While in WhatsApp the information you can display is limited to name, photo and status, the Business version offers more information fields.
This is intended to help businesses display their basic information with easy access for their customers and prospects. So, the information you can enter is the name of the company, a photograph, brief description, location, working hours, link to website and catalogue (maximum 10 products).
Thus we allow anyone who opens the WhatsApp profile to know a little more about the company.
Furthermore, we will have the advantage of sending automatic messages: welcome message, absence message or quick answers to frequently asked questions.
Which virtual number should I choose?
As we have already mentioned above, to use a virtual number with WhatsApp Business you need to have it associated with a personal number or a virtual switchboard.
Depending on your type of business and the purpose of your calls you can choose between different types of virtual numbers.
Local: from a specific location.
Mobile: you can choose a mobile number from the country you need. Although it is usually more complicated to get mobile numbers due to country restrictions. Below you can check the complete list of virtual mobile numbers available in Megacall.
National: a landline from any city in a specific country.
Shared cost: one part of the call cost will be paid by you and the other by the caller.
Toll-free numbering: it is free of charge for the caller. This type of numbers are suitable for customer service departments since we provide the user with free help and they will always thank us for it.
As for the location – you can go from more general to more localized -, by this we mean that if you do not care about the location the most usual thing is to ask for a number of the capital of that country, and if you want to locate you more specifically you can choose province, city…
You can find a list of countries and prefixes that are available at the following link.
If you have any doubts about which virtual number to choose and want to set up WhatsApp Business on your mobile phone, do not hesitate to contact us.
Sources:
blog.hubspot.es/marketing/link-whatsapp
www.whatsapp.com/coronavirus/get-started-business/
Coments