The company from Malaga renews its image for a better user experience
In addition to the mobile app, it also introduces a softphone to make phone calls via computer.
The Málaga-based brand Megacall is renewing its image with the launch of a new website as well as introducing improvements in its services with the incorporation of a softphone and a mobile app for all those users who have a virtual switchboard.
Founded in 2008, Megacall, a trademark registered by Phoenix Solutions S.L., was born with the aim of offering a safe, excellent quality and close telecommunications service for all its customers. 13 years later, they are in more than 30 countries. Thanks to their multilingual team of professionals, they are able to offer personalised attention adapted to each user.
All this added to the ease of virtual telephony, which only needs an internet connection to work, has made it possible that there are no barriers and they can offer their services from the town of Málaga to anywhere in the world.
Some of the services offered by the company from Málaga are the virtual switchboard, SIP Trunk, Cloud Contact Center Software, VoIP calling plans and virtual numbers, among others.
In order to continue improving, Megacall has launched a new website with a renewed image to offer a better user experience, making it more intuitive and efficient when it comes to finding important information or contacting the company.
On the other hand, the customer control panel has also been renewed, where customers can manage their Megacall account more easily and find information about their services, rates, costs, list of calls, invoices and ways to top up their balance.
The main reason for these changes is that freelancers, SMEs, large companies or non-profit institutions have a comprehensive telecommunications service at the forefront of the market, transparent and flexible.
Softphone and mobile app
Another of the new features offered by Megacall to customers who have signed up with a virtual switchboard – both active clients and new ones – will have a softphone that allows turning the computer into a telephone device. It is a very quick application to install that will appear on the desktop of the computer.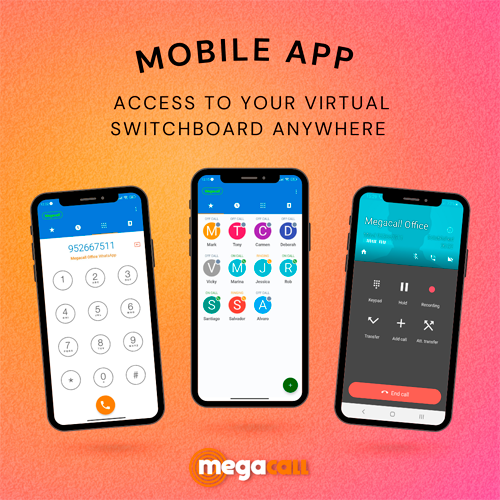 It has the same features as a landline IP phone and allows you to use all the features of the virtual switchboard: call transfer and forwarding, put calls on hold, voicemail, view the call log, call directly to other internal extensions, etc.
All these same features are also transferred to the Megacall mobile App, which will allow you to make phone calls through your mobile with your virtual number, so you can attend to your customers or employees from anywhere. Furthermore, Megacall mobile App includes the feature of making video calls between team members.
This system is perfect to save on your phone bill and carry your office phone with you at all times, which translates into more efficient customer service and makes remote working possible.
The installation of these applications and their use are free for all Megacall customers.
Coments