In this post, we will give you all the information you need to know about how a virtual switchboard works. If you are thinking of digitizing your company's communications or want to improve the telecommunications you are currently using, it will be very useful to know what a virtual switchboard offers to a company.
What is it and how does a virtual switchboard work?
A virtual switchboard is a system that allows you to make telephone calls over the Internet using VoIP (Voice over Internet Protocol) technology, this is how easy a virtual switchboard works. It is a software where you can manage your calls from a computer, desk phone or mobile phone from anywhere. All you need is an internet connection, so you can connect all your offices through a PBX, even if they are located in different countries. This technology offers your business the possibility to expand anywhere and have as many extensions as you need without having to invest in equipment or maintenance.
Nowadays all companies need communication systems, both internal and external, with great efficiency, because technology is rapidly updated and society is increasingly globalized, being able to communicate with customers or colleagues from other countries becomes in something essential for the proper functioning of a business.
Therefore, knowing how a virtual switchboard works will help you install and choose the best telecommunications system for your company.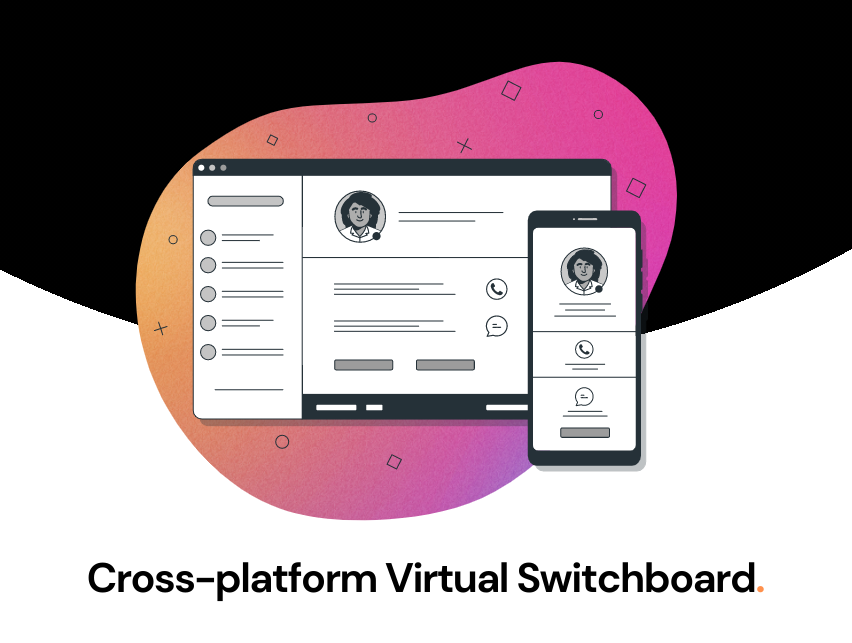 Benefits of having a virtual switchboard
The advantages offered by a virtual switchboard are the following:
Better customer service: a virtual switchboard offers a wide variety of services that allow you to improve your customer service. It includes benefits such as national and international numbering, answering machine, call transfer and forwarding, voicemail, music on hold, call recording, interactive voice response, call conference and much more.
Cost savings and scalability: a virtual switchboard is obtained through software, so everything is online and you will not need to invest in a physical switchboard, which provides cost savings in maintenance and updates bringing the latest technology. automatically updated in the cloud. On the other hand, the cost of VoIP calls is much lower than traditional telephony, and calls between platform users and the support team are free.
The scalability of a virtual switchboard refers to the number of extensions (desk phone and mobile). You can have as many extensions as you want and they don't have to be in the same location, something that a physical switchboard dictates. It doesn't matter where you want to locate each extension and you can add them as you need them, which offers scalability.
Wireless: you can forget about having a team that occupies space in your office and cables. The virtual switchboard only needs an internet connection to work with a computer, desk phone or mobile phone.
Fast set-up: due to the fact that everything is online the registration process can be done on the same day, and you will have instant access as soon as you are ready.
Online access: you will have your office anywhere as long as you have an internet connection. In addition, this allows you to check your calls, your monthly expenses, campaigns, customer data and much more whenever you need it.
How to have a virtual switchboard?
Setting up a virtual switchboard is very easy and you could have it from today. With Megacall, for example, you get immediate installation, without commitments and with all the advice you need. Our technical support will help you configure it and solve any problems encountered.
In addition, you can request a free demo to see how it works. You will find the prices from € 6 per month per user to € 55 per month per user. Check all the plans here: https://megacall.es/en/services/virtual-switchboard/#packs
You can also take advantage of the different payment methods since purchasing an annual plan will apply a discount to your monthly rate. If you want a personalised pack and more extensions, our customer service team will help you get the best service depending on your requirements. 
Discover how a virtual switchboard works and everything it has to offer to your business!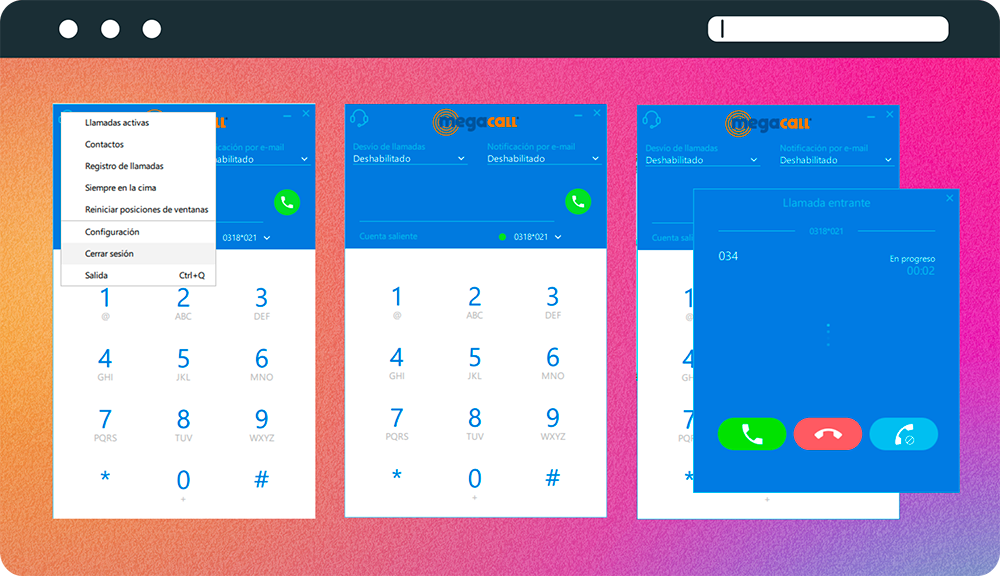 What will you find on the Megacall virtual switchboard interface? 
On the Virtual Switchboard interface, we will find three general sections. Users, System and Custom. Let's see in detail what we can find in each of them.
USERS
This section is dedicated to Users and Extensions. It is one of the most important sections since at a glance we can see the extensions that the company has and we will see the general state of the services that we have in the virtual switchboard.
In this panel we can consult the following information among other things:
– Users who use the virtual switchboard and its extension (telephone line)
– The phone number and extension of each user
– The list of active SIP devices (phones)
– Edit the information about your organization
– Access to very useful functionalities such as Barge In (listen to the calls that are currently active) or access the control panel of the Work Schedule Software, which allows you to record the working hours of employees through their phones.
SYSTEM
At System, we find two important sections.

1. UNIFIED COMMUNICATIONS
Here we can customise our interface, integrate custom buttons, check the music on hold or the IVR (Interactive Voice Response) audios that we have configured in our virtual switchboard. We can also check the Email templates and Equipment templates; among other functionalities.
2. CALL REPORTS
In this section, we will find interesting information about our account and the activity made in the virtual switchboard.
– Overview: A summary of the active services and the calls made and/or received.
– Call Reports: Access to all calls made and received. Additionally, calls can be filtered to perform specific searches and export results in Excel or CSV.
– Call Flows: A list of all active calls.
– Call Statistics: Here we will see statistics in a graph form. It can be filtered by date and we will see statistics of the number of answered calls, failed calls, busy calls, unknown or not allowed calls. Other data that can be checked is the daily average call duration or the top users using telephony.
CUSTOM
In the last section, we will find administrative and help functions.
– Account Top-Up: it consists of a direct link to the payment platform so that you can recharge your account and continue using the services of the virtual switchboard.
– Contact Support: you can directly go to the technical support contact page to solve your doubts and incidents.
– Recording Storage: you will find all the necessary information in case you require storage for the recordings of your calls.
All these functionalities can be found in a virtual switchboard software. If you want to know more information or if you have any questions, you can contact Megacall at the email info@megacall.es.
Coments