In this post, we are going to analyse how auto dialer works, as well as give you examples of its usefulness, how it can benefit companies, and with which programs or software it works perfectly.
If your company is dedicated to sales this system will be of great help to improve the efficiency of your agents. However, it can also be used for organisations that need to make many calls, customer service centers, survey campaigns, real estate, or appointment reminders for clinics such as hospitals, dentists, etc. 
The contents we will look at are the following:
What do the words auto dialer mean? 
Advantages of the automatic dialer for call centers
How to optimise calls with an auto dialer
What do the words auto dialer mean? 
Let's define what a telephone auto dialer is. A dialer is a tool that is presented as a very effective solution for making calls in call centers or contact centers. It is an automatic system that connects calls one after another without the need for the agent to search for the user or dial the number resulting in waiting times between calls being reduced. It automatically dials telephone numbers.
On the other hand, it also reduces agents' time loss, since it will not try to call a number that does not exist or is incorrect. The system will always jump to another number until a call is answered. 
There are several types of telephone dialers, such as predictive, progressive, and preview. If you want to know more about them consult our previous post about "what is a predictive dialer?" 

Advantages of automatic dialer for call centers
We can find multiple advantages in the use of an auto dialer for call centers since its main objective is to increase the success rate and the efficiency of the workers. 
An automatic dialer improves operators' performance because the system connects them with customers that respond to the call and they do not waste time calling unavailable contacts. 
Once you have created the campaign within the call center software and imported all your contacts, you can customise the system with the most convenient predictive dialer according to your objectives. Programs like Megadialer offer high possibilities of customisation. 
Among the features offered by this service we can highlight the following: real-time statistics, call recording, integration with email and CRM, monitoring of agent calls and live listening, interface customisation, form creation, surveys, shopping carts, etc.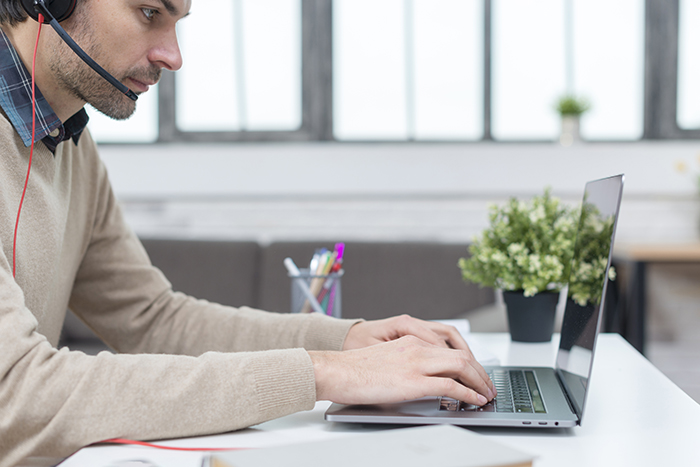 Because a telephone auto dialer is the most productive way to make many calls, it is perfect for mass campaigns that require contact with a large volume of people. 
How to optimise calls with auto dialer
To maximise the productivity of your agents and optimise calls with an auto dialer machine we recommend that you follow a few guidelines:
Choose a call center software that includes predictive dialer functionality 
Import the contact list making sure that there are as few contacts as possible whose phones are no longer available. This will ensure that the number of successful calls increases. 
Customise the interface of your call center so that the agent can work comfortably and has clear objectives. With a telephone auto dialer software the waiting time between one call and another is reduced, so once the user answers the operator must have the necessary information in front of them.
With programs like Megadialer you can create a form in advance and the agent can fill it in with the customer's data while they are having the conversation, as well as fill in surveys, take note of an order, book an appointment, etc. 
It takes agents an average of 30 seconds to dial a phone number manually, so thanks to the speed of a dialer they can concentrate on what really matters: talking to customers. 
For this reason and the ones we have seen before, we recommend that you implement this reliable and secure communication system in your call center.
If you need help with your configuration with Megadialer, do not hesitate to contact us.
Coments